Back to overview
A highly successful trade fair: Eirich concludes several new cooperation agreements with companies from the concrete industry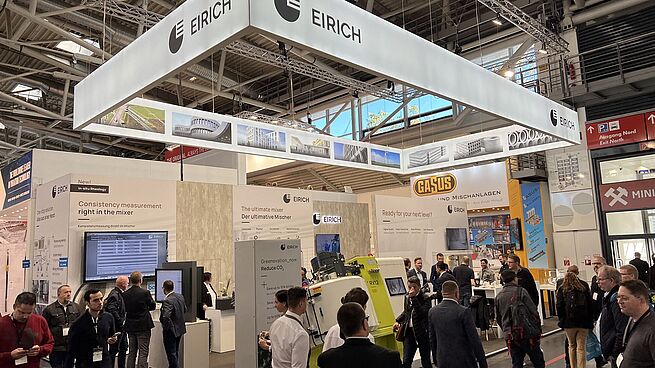 The bauma trade fair is the world's leading event for construction machinery, machines for producing construction materials, mining machinery, construction vehicles, and construction equipment – and for the companies that use this equipment. The different industries came together in October 2022 to take full advantage of the multi-day event as a post-pandemic networking platform where they had the opportunity to connect to new clients. For the traditional company Eirich, the bottom line from its participation in last year's event was outstanding, with the specialist for mixing and preparation technology concluding no fewer than five orders from international companies.
Hardheim, July 2023: After a long enforced trade fair break due to COVID-19, many of the people responsible for the event were asking themselves whether the underlying concept for this large-scale event would still work, or whether its best days were now behind it. Well, after a hugely successful bauma 2022, for Eirich at least the answer is clear. At the event, the company presented its mixing and analysis technology for resource-efficient preparation of concrete and construction materials. In particular the in-situ rheological measurement capabilities directly in the mixer met with great interest from the audience.
Stefan Berberich, Team Leader Concrete at Eirich: "The trade show was an extremely successful event for us, and we are delighted about the level of interest from trade show visitors. One customer ordered a new mixer directly from our booth. Thanks to a quick and targeted follow-up, we were able to secure four more new customers after the trade fair. The mixers are currently being manufactured in Hardheim and can then look forward to a new life in Germany, Italy, Spain, and Poland."
New orders from international clients
The longstanding expertise and solutions offered by Eirich, which focus on careful use of resources in production to deliver the best quality results, impressed numerous experienced companies from a range of different countries.
Particularly when it comes to the preparation of different types of concrete for manufacturing precast components and paving stones, it is vital that uniform consistency is maintained. The compact mixer design for batch sizes from around 100 to 330 liters of fresh concrete, the uniform distribution of moisture in the final mix, and the wearing-down and mixing-in of impurities such as clay in the aggregates all combine to make this innovative technology such an attractive proposition for potential customers.
The following companies have all opted to work with Eirich in the future:
• Betonwerk Carl Plötner GmbH, Germany
• MICHELETTO S.as., Italy
• ANTOLINI M.C.E., Italy
• Prefabricados de la Jara S.L., Spain
• DROG-BRUK A.P.Szczerek Sp. J., Poland
Digital trade fair concept for on-site interactivity
Maximilian Dunkel, Head of Marketing at the Eirich Group, is planning a fundamental rethink of the company's trade fair presence. As part of this, together with his team he has developed an innovative way to present the company and its products outdoors for events in the second half of the year. "At Eirich, we still believe in trade fairs as a great way to reach out and look after our customers, as well as for acquiring new clients through one-on-one meetings and conversations. We are looking for innovative approaches and are working on exciting new concepts for bringing our technology closer to trade show visitors. Simply filling our trade fair booth with large machines no longer meets our needs – instead, we are focusing more on interactivity and our new digital services," adds Dunkel, speaking about the new plans of Eirich.
The new trade fair concept will already be unveiled at GIFA in June.