Back to overview
New EIRICH mixer taken into operation with great success at Vishay Electronic GmbH, Selb (Germany)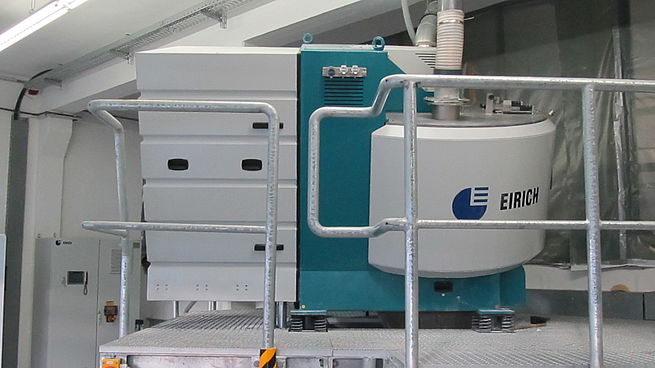 EIRICH mixers have been used in many preparation processes in the technical ceramics industry for decades, and thanks to their underlying design and system layout, these mixers can perform mixing, granulating, coating, kneading and dispersing. In addition, a quality of disintegration is attained that cannot normally be reached by other systems. Vishay was impressed by the advantages that this technology has to offer and decided to install an EIRICH mixing granulator.
Vishay Electronic GmbH is part of Vishay Intertechnology Inc. The global high-tech company with production sites in 17 countries is one of the leading manufacturers of active and passive electronic components. In 1987, Vishay took over the company Draloric in Selb in Germany. Today, Vishay Draloric is one of the trade names for MELF (metal electrode leadless faces) resistors and ceramic capacitors.
Just like in all other product classes of technical ceramics, the preparation process also plays a pivotal role when it comes to ceramics for electronics applications. The requirements in terms of the mixing results are high – the aim is to achieve the most uniform possible distribution of all components. This is the only way to ensure that, later on, every component offers exactly the properties assigned to it by the specification. This was already the reason why the predecessor companies of Vishay Electronic chose to use the best available preparation technology and manufacture with EIRICH mixers.
Technological advancements have led to numerous innovations, both in ceramics for electronics applications and in machine engineering and plant construction. This is why, after repeated test series at the EIRICH test center in Hardheim, Vishay Electronic decided to install a new EIRICH mixer. As is typical for mixers for technical ceramics, all parts that come into contact with product are made of stainless steel. A frequency inverter allows the mixer to run in different speed ranges. The mixer, which was taken into operation in November 2017, enables Vishay Electronic to continue producing high quality components.
Mixers with a size below 150 liters are normally large enough for applications in technical ceramics. However, it is often important for the manufacturers that these mixers are not only able to mix, but that they can also perform granulating, coating, kneading or dispersing. With the EIRICH technology, it has been possible to combine several preparation steps in a single unit. Mixers in sizes ranging from laboratory to production scales are available at the EIRICH test center so that this can be tested. The process engineers from EIRICH can perform tests with customer materials here and at many other of the company's sites.
More information:
Contact: Maria-Luise Liepe, e-mail: maria-luise.liepe@eirich.de