Back to overview
Mixer Replacement in Only Four Days at Bernhard Jäger Betonwerk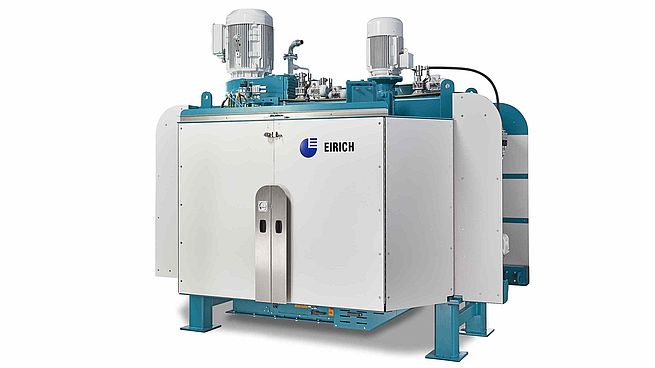 EIRICH mixers have a reputation for extreme durability. Bernhard Jäger Betonwerk GmbH & Co. KG is another case in point. The company decided to replace a mixer that it had used in production for more than 25 years. Four days were enough to make the swap at the plant in Mengen, Germany.
Bernhard Jäger Betonwerk is a mid-tier family-run enterprise which has been in business for more than 100 years. The company produces elevator shafts, shaft systems, light wells, trough systems, basement windows and unitized construction systems. It installed a DE22 EIRICH mixer system back in 1981. These mixers have a mixing star and a rotor, and they evolved from ring-trough and planetary mixers. The rotating mixing pan transports the material inside the mixer to the mixing tools. The entire content is stirred in a short time.
When this mixer type was initially introduced, the market response was very positive. Customers were finally able to produce uniform concrete quality and reduce the cement content. Uniform concrete quality was the reason why Bernhard Jäger Betonwerk chose this mixing technology.
A large variety of tools is needed on other mixing systems for material transport and mixing. The number of tools needed on the EIRICH high-speed counterflow mixers is significantly lower. Fewer tools running along the walls and bottom means that less material becomes trapped, and that in turn reduces friction and wear. That is why a decades-old EIRICH mixer often produces better results than a brand new mixer which uses a different mixing system. Many customers still get the production efficiency they need with EIRICH mixers which they have been using for several decades.
However, technical progress does not stop at mixers. In 2016, EIRICH introduced a new generation to replace the DE22. The DE23 is available in 1500, 2250 and 3000 liter versions. As was the case with earlier D-series mixers, a rotating mixing pan transports the material to the mixing tools. A rotating mixing star and high-performance star-type rotor ensure short mixing times and homogeneous mixtures. Actual mixing is performed by the rotor tool. The speed of the tool can be adjusted for the particular mixing operation. The speed of the mixing pan, mixing star and rotor can be controlled independently. A number of additional options are available including moisture measuring with a bottom-mounted probe, an automatic cleaning feature (high-pressure jet which can be combined with water dosing), automatic central lubrication, frequency converters and condition monitoring for the drives and bearings. The mixer outputs the full set of parameters needed by the higher-level control systems.
EIRICH has received many inquires recently from customers who wish to upgrade old systems. In response to this need, the company has set up a System Refurbishment Team which can respond quickly to customer requests. A full list of requirements is drawn up during a visit to the site. A tailored refurbishment plan and proposal is then generated which include all of the work and materials needed. On request, the EIRICH services may include coordination with third-party suppliers and with manufacturers of existing equipment such as controllers. The EIRICH refurbishment team can then provide fast, efficient, professional services for refurbishment, upgrade and retrofit projects.
Replacement of the DE22 with the DE23 at Bernhard Jäger Betonwerk was completed within a time window allocated by the customer for maintenance. The goal was "four days for mechanical retrofit", and the deadline was met. Following modification of the system controller, the customer was able to restart production eight days after the start of the retrofit work. Mixing time was reduced nearly in half. There was also another advantage. The batch size increased from 1 m³ to 1.4 m³ with virtually no change to the formulation. Corrections are often needed on other systems, because a "bigger mixer" normally means "more tools" which can change the power input into the mix.
Virtually any type of concrete and consistency with and without fiber additives can be produced with the new mixer. This will help Bernhard Jäger Betonwerk GmbH & Co. KG to successfully compete in the years ahead.
More information:
Contact: Hermann Schwinn, e-mail: hermann.schwinn@eirich.de