Back to overview
Perfect production results with the Qualimaster VC1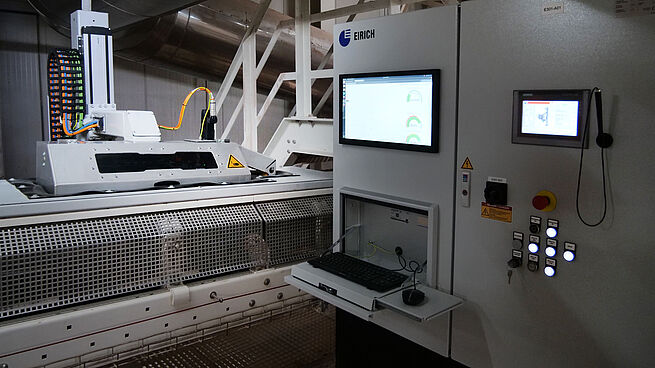 Machinery and systems engineering company Eirich presents the new Qualimaster VC1 – a system that determines the particle size distribution, grain shape, and surface structure of bulk materials and particles. With this, the VC1 supplies valuable data for process optimization, troubleshooting, and quality assurance in process engineering. With the aid of two high-resolution industrial cameras and a subsequent image analysis based on artificial intelligence or a so-called "Deep Learning" solution, Qualimaster VC1 measures the properties of bulk goods. To do this, the system is installed above a conveyor belt. The measurement is contactless – keeping requirements for cleaning and maintenance of the device to a minimum. Comparable devices on the market usually take samples from the conveyor belt, resulting in the need for moving components that are in direct contact with the material being analyzed. The Eirich system can be adapted and configured to meet the specific needs of a particular application to ensure that it is optimally tailored to measuring tasks such as particle size distribution, surface structure, or color properties. Depending on the lens fitted, the camera covers a typical measuring range from 0.2 to 20 mm. The current camera images are not only displayed locally on the unit via a display, but they can also be accessed remotely – for example from a control station or control room.
Qualimaster VC1 performs inline measurements and delivers information immediately, with high time resolution. As a result, measured values are available much more quickly than when using a laboratory analysis, which makes it possible to quickly correct line parameters if product properties change unfavorably. By doing this, Qualimaster VC1 creates the perfect basis for modern and efficient production in many production lines in the bulk goods industry.
This makes the new Eirich Qualimaster VC1 a key building block for the digitalization of lines for processing bulk goods.