Back to overview
GSES GmbH chooses granulating technology from EIRICH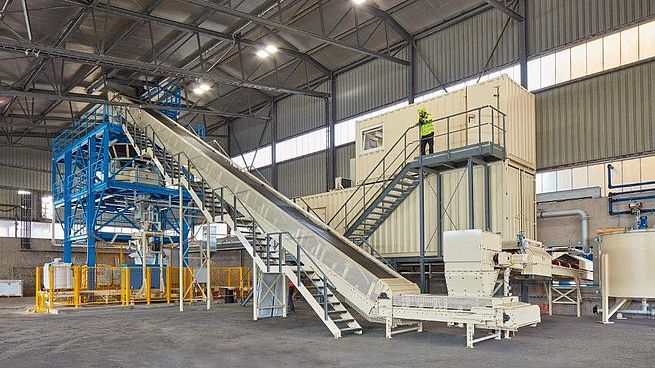 One of the main business areas of Glückauf Sondershausen Entwicklungs- und Sicherungsgesellschaft mbH (GSES GmbH) is the backfilling of abandoned mine workings left over from salt mining operations in the Sondershausen region. Underground back filling is an interesting possibility particularly for the utilization of powderized waste from thermal processes. To do this, the filter dust first needs to be conditioned by adding water. In order to meet current legal requirements, the granulate manufactured for backfill materials needs to be as dense and low-dust as possible. This is why GSES GmbH has decided to opt for preparation technology from EIRICH.
Today, powderized waste from thermal processes (e.g. waste incineration, metallurgy, glass industry) and filter cake (e.g. surface treatment of metals, waste water treatment) is used predominantly in underground backfilling, e.g. in salt mines. The backfilling of mine workings in closed-down mine sections ensures long-term stability and helps to reduce the risk of rock bursts as well as subsidence at surface level. This method of recycling waste also keeps the products separate from the biosphere and prevents pollutants from entering into the ecosystem. In order to ensure long-term stabilization of the geo-mechanical system, strict requirements are in place for the backfill materials used. Before they can be used as backfill materials, the waste products in question must be converted into a preferably low-dust granulate.
In many industries, dusts need to be moistened and agglomerated so that they can be handled as bulk material, but even more requirements apply to backfill materials. To ensure that maximum use is made of the available underground storage space, the target product must be as dense as possible and must have a high bulk density, without containing elevated moisture levels. This can only be achieved through the production of high-quality granulates. In addition, the grain sizes must lie within defined limits. Against the backdrop of these requirements, the mixing and granulating technology from EIRICH offers major advantages by virtue of its underlying design and system layout.
The EIRICH mixer used for moistening and granulating in batch mode or in continuous processes is completely different to other mixing units. In sizes from 1 to 3,000 liters, only one moving tool is required – the so-called rotor. Machines with an effective volume of up to 5,000 liters are equipped with two rotors, while mixers with 12,000 liters have four rotors. This means that there is no need for fast-running and fast-wearing choppers. Depending on the task, the rotor can run at speeds of up to 30 m/s. This makes it possible to generate high shear forces and distribute liquids quickly. Instead of liquids, it is also possible to add moist filter cake. In addition, it is also possible to convert filter cake to granulate by adding dry materials. With these techniques, uniform, low-moisture granulate can be produced. This is the reason why, ultimately, users regularly decide to opt for preparation technology from EIRICH. In addition, by varying the tools and speeds it is possible to vary the range of grain sizes quite considerably; granules with a d50 value ranging from < 100 µm to than 7 mm are possible, depending on the material and customer requirements.
The scope of supply for GSES includes the complete system, starting with the injection pipes and ending with the big-bag output of the filling system, including the control system, assembly and commissioning. In the process, EIRICH can look back on long-standing experience – with the first complete agglomeration systems for dusts from waste incineration plants already being built back before 1990.
For interested parties, the optimum operating conditions for the granulating process can be trialed for specific applications at the test center in Hardheim and at sites of the EIRICH Group worldwide.
More information:
Contact: Uwe Schnitzler, e-mail: uwe.schnitzler@eirich.de