Back to overview
Beton Müller opts for mixing technology from EIRICH for its new production line in Achern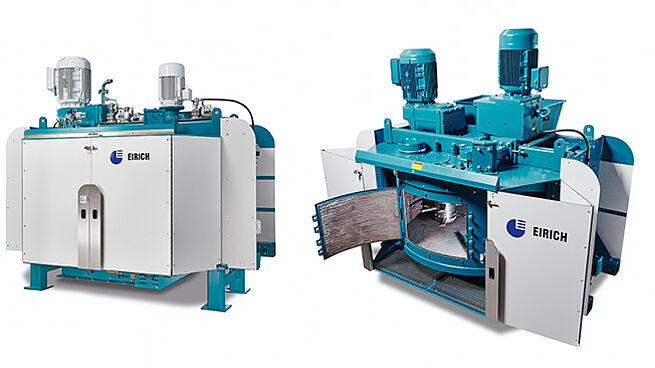 Concrete plant Beton Müller develops, produces, and sells precast concrete components for civil engineering. The company is family-owned and can look back on 125 years of company history. Production takes place at three sites in Baden-Württemberg in Achern, Breisach and Kirchardt. All three sites already employ Eirich mixers, and once again the company has now decided to choose the best available mixing technology for its new production line in Achern – i.e. mixing technology from Eirich.
Beton Müller is well known fortop quality, sustainable and durable wastewater structures. The delivery program includes pipe systems, shafts, and duct constructions for wastewater, civil engineering structures, rainwater storage tanks, treatment plants and infiltration systems, as well as solutions for flood protection. High-quality concrete products demand perfectly mixed concrete. This is why the company already decided to opt for Eirich mixers many years ago. Here, as well as the ability to deliver optimized mixing performance, the legendary service life and durability of these mixers played an important role in the decision. The plant in Breisach is still using an Eirich mixer originally built in 1969, while Kirchardt has a unit from 1983 and Achern one from 2008. Because of the separation between material transport in the mixer and the actual mixing process itself, the very design of the system means that these mixers require fewer moving tools, so friction and wear are noticeably reduced in comparison to other systems.
For Managing Director Joachim Strack it was therefore an easy decision to plan with Eirich once again for the plant expansion in Achern. The mixer of type D23/3 has a usable capacity of 3000 liters. The D23 series was developed in 2015 and offers a choice of 1500, 2250 and 3000 liters. As with all Eirich mixers, a rotating mixing pan transports the material to the mixing tools. However, the tried and tested mixing principle of the D-mixer was optimized even further still. The size of the fast-running rotor was significantly increased, and it now performs the bulk of the mixing work; the mixing star performs coarse mixing and assist with emptying.
The mixer and accompanying controller will be delivered in the autumn of 2021. The new production line will enable Beton Müller to supply durable, long-lasting concrete products to even more customers.
Further information:
Contact: Stefan Berberich, e-mail: stefan.berberich@eirich.de