Back to overview
Eirich at bauma: Excellent mixing and analyzing technology for resource-efficient preparation of concrete and construction materials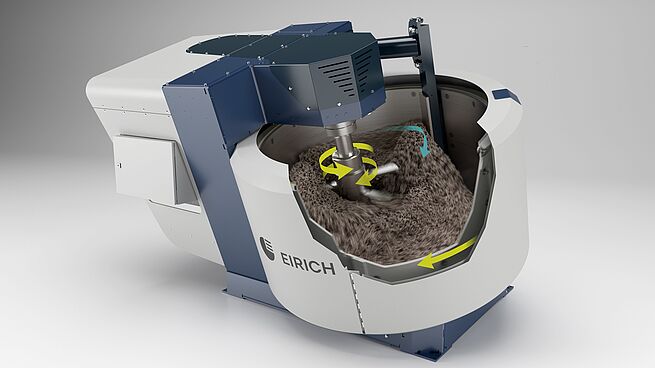 In the face of ever increasing challenges, the industry is now tasked with finding new solutions on the path to a sustainable future. For many years now, Eirich has already focused on the development of digital and innovative technologies that support energy-efficient and resource-saving production with durable, long-lasting mixers. The latest display of this long-established company's expertise can be seen in the form of its new technology for performing in-situ rheological measurements directly in the mixer – technology that was voted one of the Innovation Award finalists in the category "Digitalization" at bauma.
Hardheim, October 2022: At this year's bauma trade fair, Eirich has something on show that will be of great interest to the concrete industry: a new system for performing rheological measurements in the mixer. Particularly in the preparation of concrete for the manufacture of precast components, it is vital that uniform consistency is maintained. Variations in moisture content not only impact on processability, but they also affect the color intensity of the surfaces. This makes it essential to achieve a recipe-specific consistency that remains consistent in the long run. Eirich offers a new system for performing rheological measurements directly in the mixing pan, which requires no additional hardware and is therefore quick and easy to retrofit.
The new Eirich solutions are designed in particular to save resources and reduce energy costs, while also lowering energy-related CO2 emissions at the same time. "Eirich stands for experience and a spirit of innovation. With our expertise, we feel it is our responsibility to do our bit and contribute to a climate-neutral future. We are facing up to the challenges of our times, and by optimizing production processes we are helping a wide range of industries to improve efficiency and sustainability," explains Stephan Eirich, Managing Director. "As a long-standing partner of production, we are aware of many different aspects that need to be taken into consideration. With our mixers, digital solutions, and smart component solutions we are able to create flexible manufacturing options."
This year's bauma trade fair offers insight into Eirich's world of machinery, systems, and expertise in the production of construction materials:
With its new system for performing rheological measurements in the mixer, Eirich has new technology on show that has made it to the shortlist of finalists for the bauma Innovation Award. In an Eirich Mixer, the shear rate can be calculated using the drive torque of the rotor, the shear stress, and the circumferential speed of the rotor. Measurements are performed using a step or ramp profile, with the upward and downward load determined in each case. In day-to-day research and production environments, having this measurement option directly in the mixer makes work much simpler and saves a great deal of time. Thanks to this digital measuring method, complex laboratory analyses and sampling using slump flow tests or other consistency measurement techniques are no longer required. The rheology upgrade can be retrofitted to existing control systems. The new technology is already being used successfully in development laboratories for construction material technology.
Smartfix 2.0 – the improved Eirich quick-change system for beaters. The new and patented design hugely simplifies the process of changing beaters and makes it even quicker and more ergonomic to replace wear parts. The system drastically cuts installation time and makes a major contribution to ensuring optimized utilization of production facilities. As a result, customers are able to replace or reposition just the parts that have worn, so that the wear reserves of the beaters can be fully exploited in less demanding areas.
The latest generation: experience R12 live. In the form of R12, Eirich will be presenting the latest mixing technology including all new features and smart improvements. For the mixer, which is used worldwide by hundreds of companies in the preparation of facing concrete, the effective volume has been increased from 400 to 500 liters. At the same time, handling and maintenance have been made easier. High-pressure cleaning, measurement of moisture content and temperature, as well as monitoring of the mix via a camera are optionally available.
Digital solutions from Eirich open up new control capabilities and new organizational options for companies along the entire value creation chain. In the era of Industry 4.0, automation, optimization of production processes, and intelligent networking of equipment and systems create improved efficiency and sustainability. In this way, Eirich offers its customers even better service and barrier-free accessibility with state-of-the-art technology – all from a single source.
Focusing on the environment: Digitalization, resource efficiency, and – in particular – energy savings help companies to protect the environment and meet climate/energy targets. Eirich also offers high torque motors for its mixers. Here, high torque output is combined with a compact design and small component dimensions to enable energy-efficient solutions for challenging mixing tasks. In addition, the absence of mechanical elements makes these motors quiet and low maintenance.
The bauma trade fair is the world's leading event for construction machinery, machines for producing construction materials, mining machinery, construction vehicles, and construction equipment – and for the companies that use this equipment. The trade fair will take place from October 24-30, 2022 in Munich. The Eirich stand can be found in hall C1 at booth 449.