Back to overview
Product launch at POWTECH 2022: Eirich presents new AI-based technology for optimizing the quality of granulates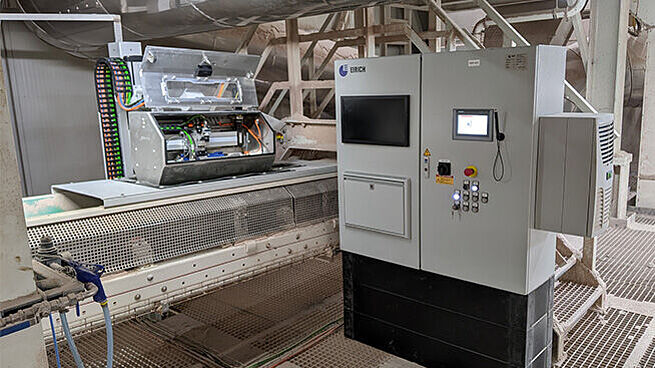 Rising energy prices and resource scarcity continue to dominate day-to-day business in the industry. In these difficult times, Eirich offers a wide range of solutions that are carefully designed to facilitate the transition to a climate-neutral future. The traditional company regards the energy and technology transformation as an opportunity and is keen to face the new challenges head-on. With its new "Qualimaster VC1" system, Eirich presents cutting-edge AI-based technology for inline optical quality monitoring of granulates.
Hardheim, September 2022: At this year's POWTECH, the leading trade fair for the bulk solids and process engineering industry, Eirich is celebrating the global premiere of its Qualimaster VC1 and is looking forward to showing off the new product in detail to the specialist audience. The intelligent AI-based quality assessment system has been developed in conjunction with the start-up Prosio Engineering in a collaboration that has led to the formation of a joint venture under the name of "Prosio Vision," which has started offering intelligent control technology for the bulk solids industry this year and is currently in the process of being expanded into a new AI Center for the Eirich Group. Eirich will also be presenting a range of other innovations and new technologies designed to keep production cost-effective and affordable in times of rising energy costs. Here, the solutions from Eirich focus on ways to preserve resources and reduce energy costs along with energy-related CO2 emissions. Only processes that offer an advantageous energy balance will be able to establish themselves in the long run: "If we are to make a success of implementing the energy transformation, this can only be done with the aid of efficient, high-quality, and environmentally sound preparation processes. With our solutions, we want to contribute to this process and highlight new ways for this industry that will enable manufacturers to save energy and produce more cost-effectively," says Stephan Eirich, Managing Director. As a factor in being able to meet these targets, digitalization offers huge potential for saving resources and protecting the environment: "The optimization of production processes and intelligent networking of production lines are important steps on the path to greater efficiency and sustainability. They create flexible production structures, which are incredibly important in such a dynamic market."
This year's POWTECH trade fair offers a great overview of the machinery, systems, and lines available from Eirich, as well as providing insight into the company's skills and competence in all areas of the bulk solids and process engineering industries:
Qualimaster VC1 from Eirich is a new, camera-based system for precise optical quality assessment of granulates. The new measuring system combines state-of-the-art camera technology with AI-based intelligent analysis software. It can be used to measure key parameters of granulates, including particle size distribution, grain shape, and grain surface area. The data obtained from this then forms the basis for wide-ranging options for controlling complex production lines in order to optimize product quality and line efficiency. This makes the VC1 a key building block in the digitalization of lines for processing bulk goods.
The CleanLine C5 Laboratory Mixer combines multiple processing techniques in a single machine: homogenizing, granulating, plasticizing, suspension processes, cooling, heating, and reaction processes. The system can be used for trials of special techniques in a hygienic atmosphere. Quick and easy upscaling of the Eirich principle to production scale offers plenty of freedom to develop new products.
EcoPrep® (Economical Preparation) is energy-efficient and sustainable technology for preparing bulk materials with good flow properties. The system creates high-quality and cost-effective pressed granulates and offers savings of up to 60 percent in terms of energy as well as raw materials and additives in comparison to wet preparation. This sustainable solution from Eirich is designed to replace energy-intensive spray towers in applications from laboratory scale to full-scale production lines.
With digital solutions from Eirich, companies can implement new ways to control and organize the entire value creation chain. In the era of Industry 4.0, automation, optimization of production processes, and intelligent networking of lines/systems boost both efficiency and sustainability. This allows Eirich to offer its customers even better service and barrier-free accessibility with the latest technologies – all from a single source.
POWTECH 2022 is the key trade fair for the entire bulk solids and process engineering industry, as well as for the end users in this field. The event takes place from September 27-29, 2022 in Nuremberg/Germany. The Eirich stand can be found in Hall 4A at Booth 433.